A-Level and Vocational Results Day 2021
Bodmin College Sixth Form celebrates fantastic A-Level results
Students achieved an outstanding 100% pass rate across A-Level, Technical and Vocational qualifications despite challenging two years of study.
A-Level students at Bodmin College Sixth Form celebrated amazing A-Level achievements today with yet another year of successful results, particularly in Art, Computer Science, Drama, Mathematics, ICT Practitioners and Health and Social Care, where students achieved the highest possible grades of A* and Distinction* respectively.
Despite the unprecedented challenges of the school year, with months of homeschooling and ongoing disruptions due to the pandemic, students came together and rejoiced as they collected their results today. For another year running, students at Bodmin College celebrated exceptional grades with all students securing exciting future pathways.
Joe Crane, Head of Bodmin College Sixth Form, commented, "It's more important than ever this year to recognise and celebrate the achievements of our Sixth Form students. We couldn't be prouder of them, having shown such determination, perseverance and resilience throughout such a difficult year. To record such amazing results is a real testament to all of the hard work that students and teachers have put in despite the challenges we've all faced."
"The way the students adapted so quickly and positively to the changes thrown their way throughout the year was extremely impressive and admirable. These results really are a brilliant accomplishment and highlight what a truly inspiring group of young adults this year's leavers are!"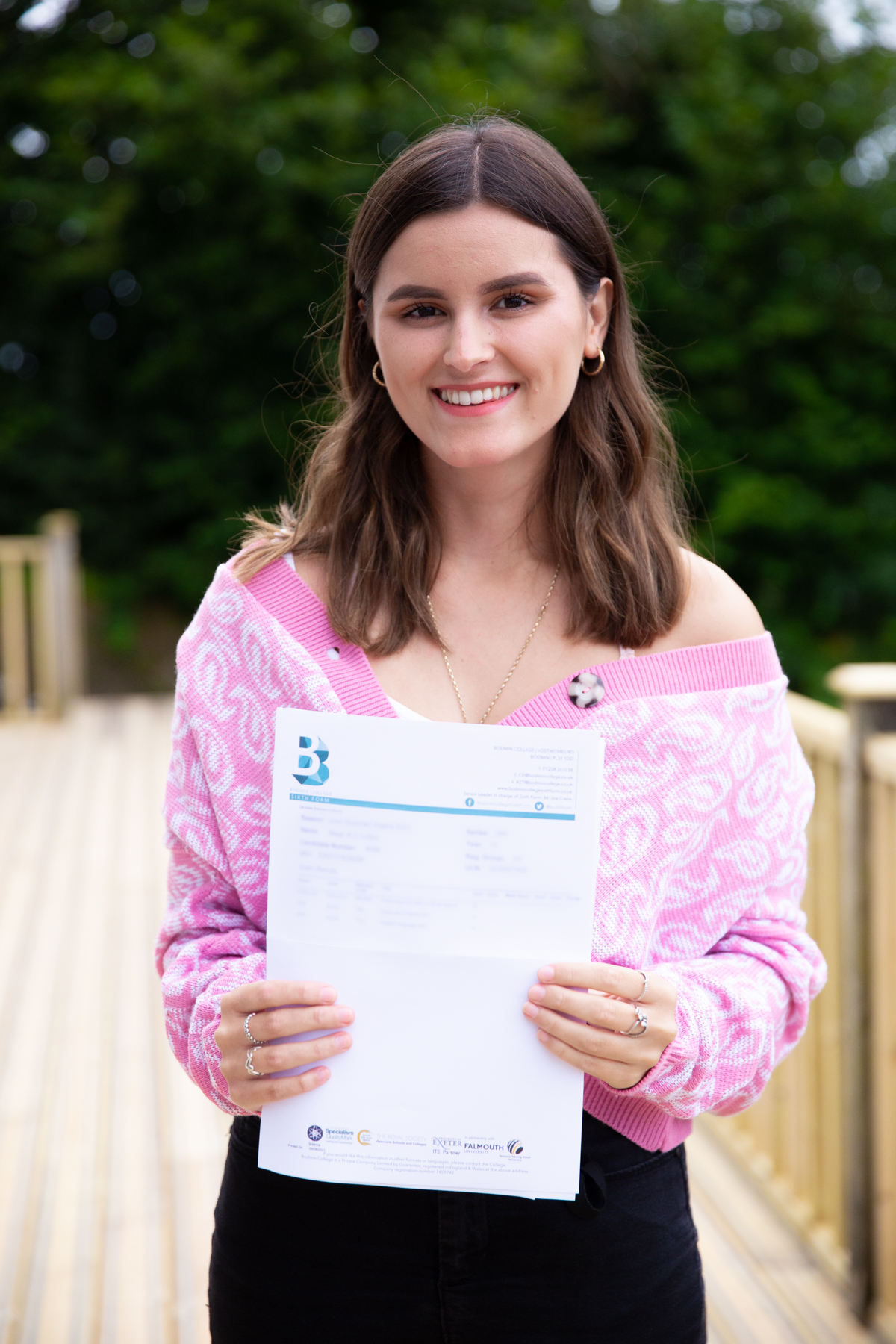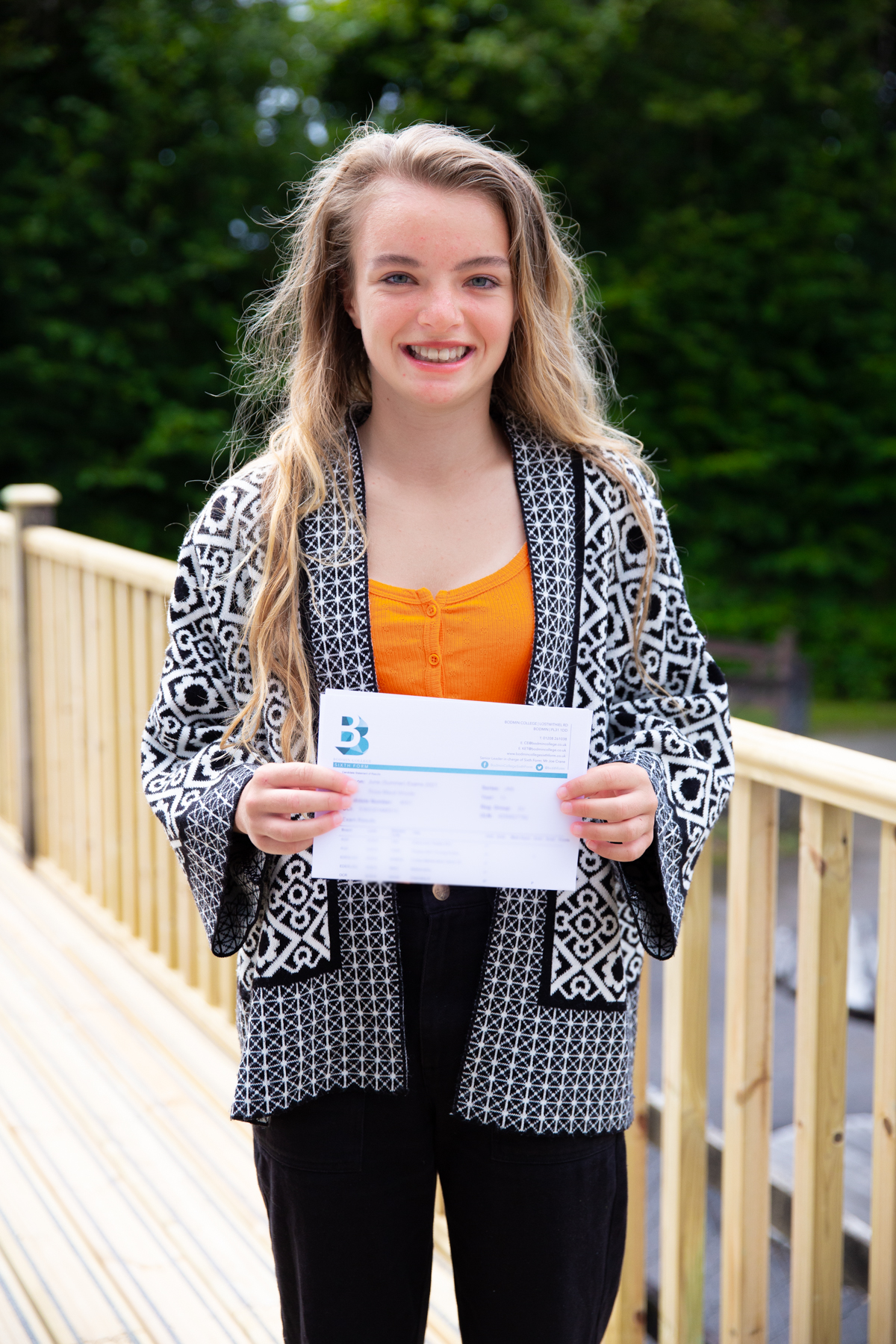 Standout successes include Rosa who is going on to study a degree in Natural Sciences at Cambridge University after gaining five A* grades in Chemistry, Physics, Maths, Further Maths, and Drama. Rosa commented, "I'm elated! I can't believe I've gained five A*s! The staff here at Bodmin College have been phenomenal and so supportive. I'm absolutely delighted!"
Liam also recorded exceptional grades, achieving A* grades in Maths, Further Maths, Physics and Computer Science. He will go on to study a joint honours degree in Computer Science and Mathematics, with a placement year at Bath University. He commented, "The staff have been so supportive. Being experts in their field, they've really helped me gain the grades I've received today and I couldn't be more grateful."
Another standout student, Maya, will progress onto Arts Ed Drama School after a successful audition in the summer term. She achieved an A* in Drama and an A in English Language, alongside Distinction* in Dance. Maya commented, "I've absolutely loved my two years here at Bodmin College Sixth Form. The support from the Sixth Form team has been amazing, and the Creative teaching team have been so inspirational and dedicated to helping their students reach their goals."
Harry and Jack both celebrate a Triple Distinction* in ICT Practitioners. Harry will now progress to Coventry University to study Cloud Computing whilst Jack is looking forward to joining the Fire Service.
Mia achieved A* grades in Drama, English Literature and Psychology. She intends to take a gap year in order to prepare for auditions that will support her aspirations towards a career in acting and performance.
Emily achieved A* grades in Art and Fine Art as well as gaining a Double Distinction* in Textiles. She is going on to study Textiles Design at Leeds Arts University.
Abi and Tia both achieved Triple Distinction* in Health and Social Care and have successfully secured places to study Nursing at Bristol UWE and Plymouth University respectively.
Jack and Jowan both celebrate sporting successes with Double Distinction* and Distinction* in BTEC Sport respectively. Both have secured scholarship places in the United States in Ohio's Mount Vernon Nazarene University and West Virginia's University of Charleston.
Mrs Emmie Seward-Adams, Principal of Bodmin College, praised both staff and students for the effort they've put in this past year, stating, "We are all so proud of the amazing young adults our Year 13s have become and their exciting aspirations for the future. After such a challenging year, these results are a real testament to the students' outstanding commitment and hard work - qualities that will serve them incredibly well throughout the rest of their lives. They have shown such resilience and determination."
"I'd like to thank the staff for their relentless hard work and the way they have supported our students throughout this time. A huge thanks also to the families for the support that they have given these young people during prolonged periods of remote learning. The Year 13s should be extremely proud of their achievements. We wish them all the very best for the next steps of their lives, whether that's continuing their studies at university, embarking on an apprenticeship or starting their careers."
This year's results were awarded by teachers, based on a combination of mock assessments and coursework. Last year's summer exams were cancelled due to coronavirus, with A-Level and GCSE students instead being awarded calculated grades based on teacher assessments or sitting exams in the Autumn term.