Bodmin College celebrates another year of excellent GCSE results
Despite a year of disruption and uncertainty, students celebrated yet another year of record results.
Following one of the the most challenging periods in education, students, staff and parents of Bodmin College came together today to celebrate outstanding GCSE results, including record numbers of the highest grades.
Students were finally rewarded for their hard work and resilience today after a series of lockdowns and disruptions during the year, as well as sudden changes to the examination process, which resulted in students being assessed through classroom assessments, in-class examinations and coursework.
Bodmin College Principal, Mrs Emmie Seward-Adams, commented, "I'm incredibly proud of our students and their achievements this year. These excellent GCSE and Vocational grades are highly deserved and reflect the incredible determination and resilience that everyone has shown this past academic year."
"Students have had to adapt quickly and sustain prolonged periods of hard work against the odds. Staff and families have gone above and beyond to ensure that students have been well supported right across an exceptionally wide range of subjects on offer."
Student Ambassador and Deputy Head Girl, Emma, celebrated nine Grade 9s. She commented, "I'm so happy! Speechless with my nine Grade 9s and just so excited to be able to continue my studies at Bodmin College Sixth Form. I'm hoping to move on to Cambridge University in the future."
Deputy Head Boy, Mawgan, achieved eight Grade 9s and a Grade 8. He said, "I'm so, so pleased with my results! The support network of friends and staff at Bodmin College has really helped me through this weird year – thank you!"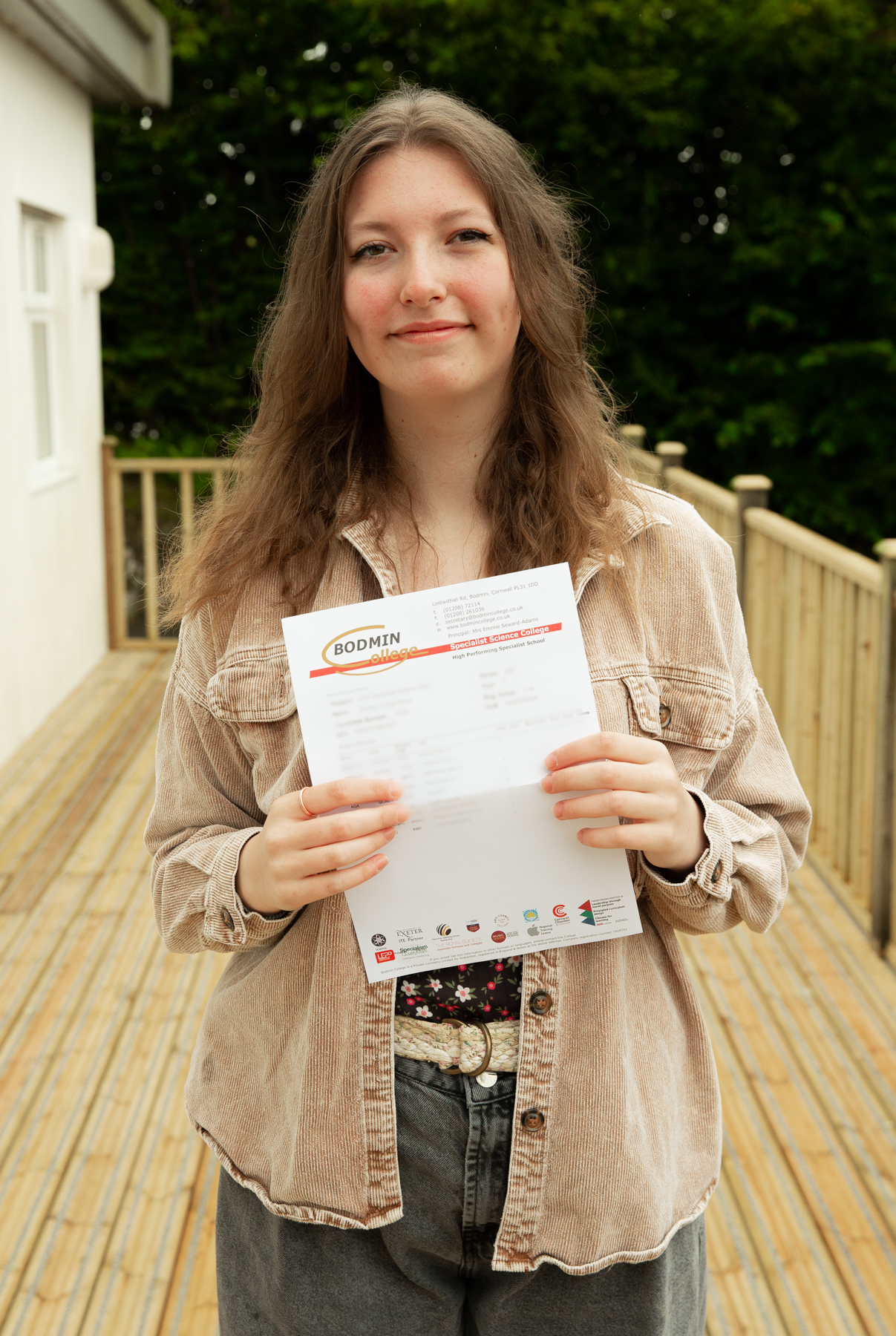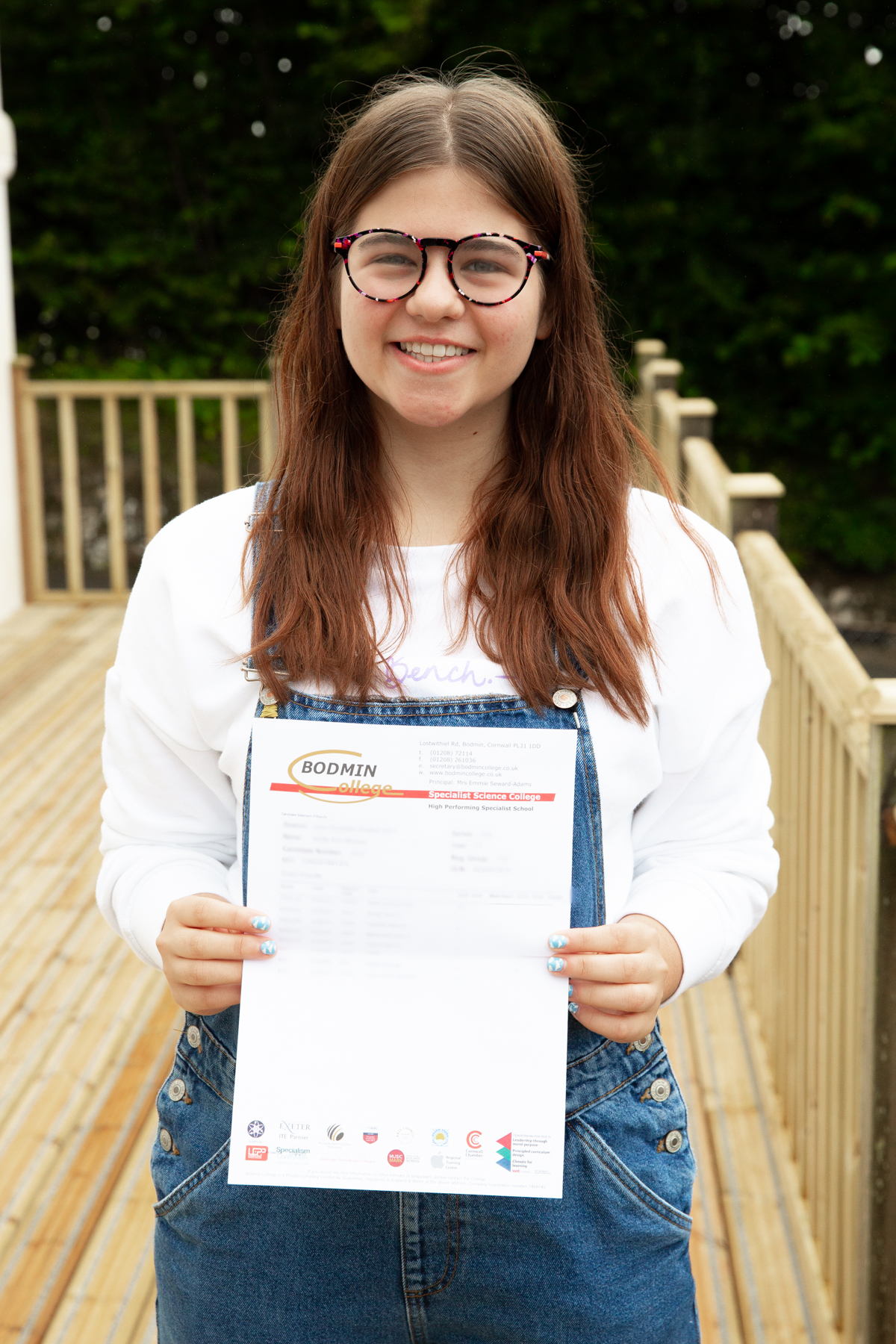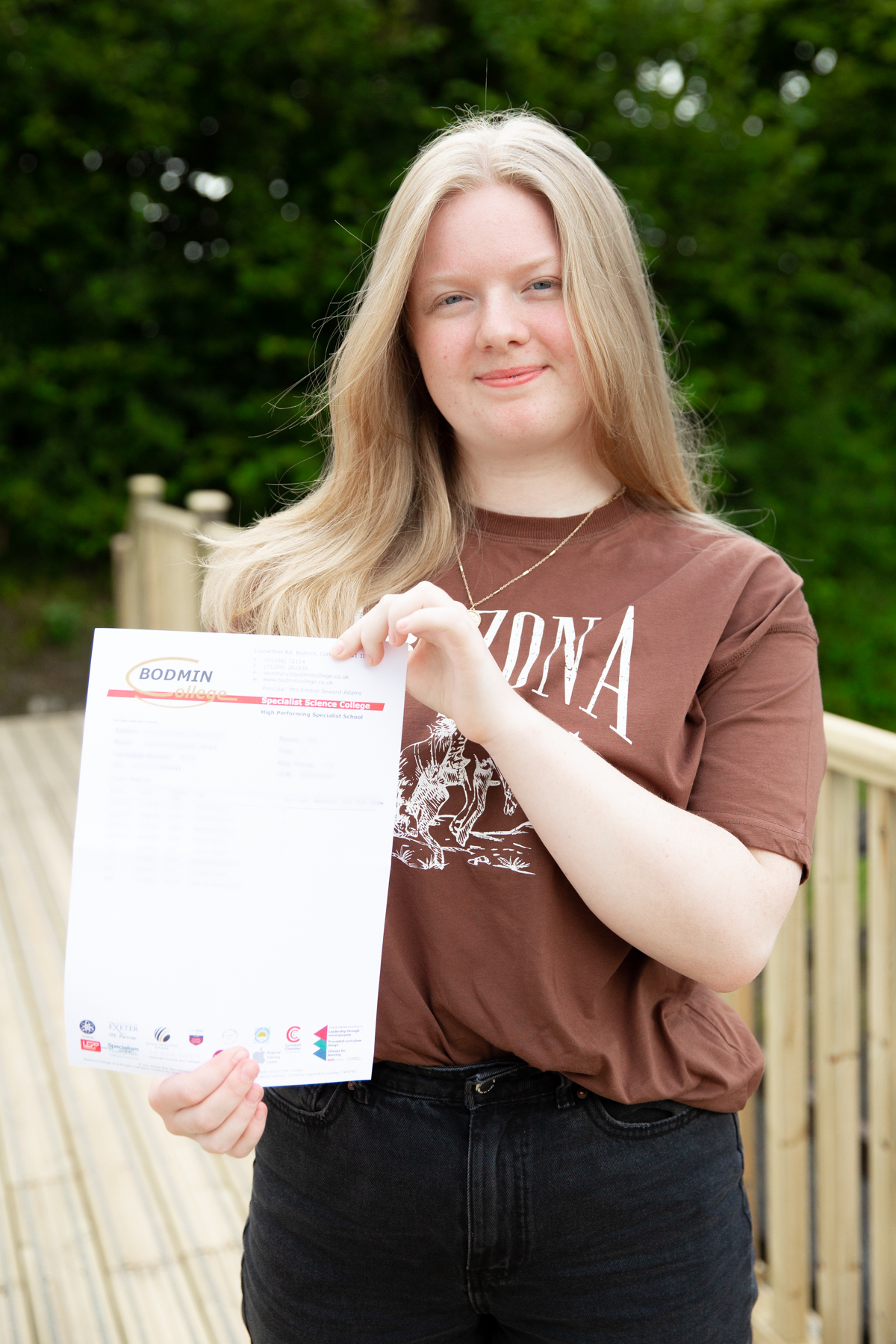 Sam celebrated significant progress achieving above and beyond his predicted grades and gaining nine Grade 6-9s, including five of which were Grades 7, 8 and 9. Sam commented, "I'm overjoyed with my results, especially the Grade 7 and 8s in the difficult circumstances with Covid19. I'm looking forward to studying Engineering and Music here at Bodmin College Sixth Form."

Josh achieved seven Grade 4-6s securing him a place at St Austell College to study Catering. He said, "I can't believe I got Grade 6s - above and beyond my initial expected grades. I worked so hard for these and this has helped me secure my future plans in catering."
Ieuan opened his results to reveal six Grade 4s and above, including two Grade 6s in English Literature and English Language. He said, "I'm amazed to get my academic as well as my vocational grades, they've opened so many options for me!" Ieuan is now planning to go on to study sport.
Other students who achieved outstanding results include Sophie and Browyn who achieved eight Grade 8s and 9s, and Miguel, who gained eight Grade 9-6s including Grade 9s in both English Language and Maths.
Year 10 students also celebrated with achievements in GCSE English Literature, achieving a record number of Grades 8 and 9s and close to 70% of Grade 4s and above, despite studying the course a year early.
Mrs Seward-Adams commented, "The hard-work, commitment and determination that both the students and staff have shown this year should not be underestimated. I could not be prouder of everyone's efforts. We look forward to welcoming many of our Year 11 students back again in September as they join our Sixth Form, but whether they're staying or choosing to follow a different path, I wish them all the best and every success in the future."